Gaco Oars
Handmade by Australian Boat Builder John Murray

The shaft is fitted to the Gaco oarlock to hold the blade vertically to the water. Leather or rubber protectors are not necessary for the oar with the Gaco and the increased resulting diameter at the rowlock aids stiffness and strength. The blades are a composite of fibreglass and coremat for strength and light weight. The shape is compound to increase strength and grip on the water.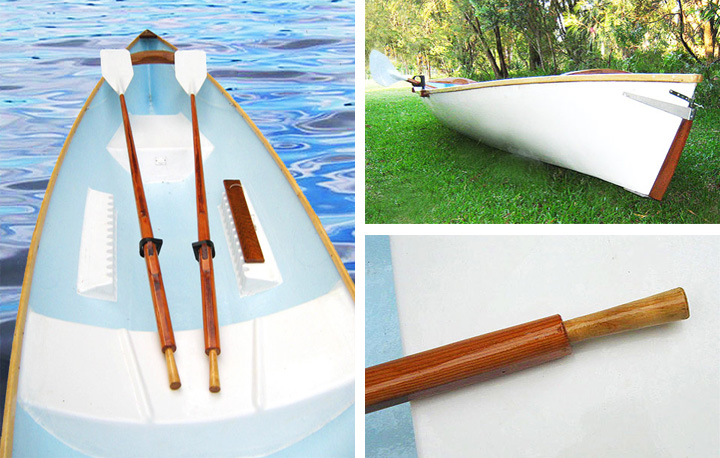 The handles are turned to the ideal shape for a comfortable grip. The shafts are engineered for aesthetics and low outboard weight. This makes it easier to lift in and out of the water and to change direction on the strokes. The rudder is operated from lanyards inside the hull.
Download plans for making Oars here

There are three basic rowing options:

1.
Single rower where the dory is steered by use of oars.
2.
Rower in the front seat and passenger lounging and steering from the rear.
3.
Rowers in the middle and front seats with passenger lounging and steering from the rear. Rowers may be equipped with a pair of oars or one oar each.
Selling Gaco Oars direct to the public:
We have been able to keep the price for a pair of oars down to $220 including GST.
If you are interested in a pair of handmade oars that you will keep for a lifetime my email address is:
mail@gacooarlocks.com